Having a huge variety of places where to eat is great. However, it can also be confusing as the options are vast and can be very different from one another. Therefore, to help make your stay in Rouen a little bit easier, we have singled out 6 restaurants in Rouen which are usually popular amongst students: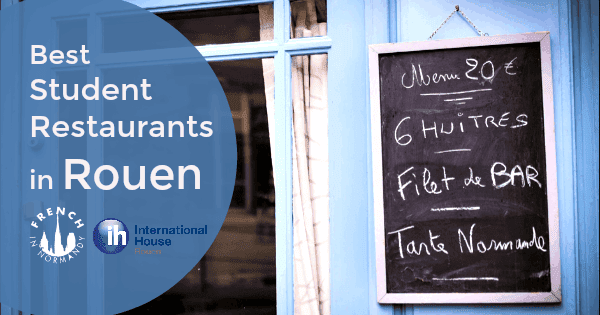 Café Dessiné: Found in the historic centre and within the famous rue Damiette, the Café Dessiné is a café and tea room where a large collection of comics is available for viewing free of charge. Open from Tuesday to Sunday, you will definitely find something delicious to have for breakfast, brunch or even a late lunch or early dinner.
Le Mont Saint-Michel: A traditional creperie which will surely give you a taste of the French cuisine. Various types of pancakes are available in this restaurant and you can visit it from Monday to Saturday. Make sure you check the opening hours before you go.
L'Oritano: Whether you're an Italian who is visiting France and wants a taste of home or coming from any other country and would like some typical Italian food, this restaurant may be the right spot in Rouen. All the dishes are homemade, even the mozzarella and the menu changes regularly. Students can either go for lunch or in the evening to taste the antipasti during Aperitivo time.
Nachos Mexican Grill: More from the international cuisine that one can find in Rouen, this restaurant offers a large choice of fajitas, tacos and salad. All food is freshly made right in front of the customer as this aspect is very important to the restaurant owners. Here you can have healthy meals at reasonable prices and the restaurant is open every day from late morning till the evening.
The Novick's Stadium: The Novick's Stadium is a concept sports bar that gives guests the possibility to experience sports from all around the world. This place is also the spot that brings together players and supporters of sports in Rouen. This restaurant is modern and hip, and it is a great spot to meet people, watch sports and relax.
La Fabrik: Directly on the quay near the Seine, this restaurant offers quality meat as well as other dishes and tapas. The atmosphere is warm and welcoming, and you can go for lunch or dinner all week, whereas Sundays it is open for brunch.
If you are looking for other types of restaurants or even different cuisines, here at French in Normandy, we are always happy to give you suggestions on our personal favourites. So, contact us or speak to one of our staff members when you arrive at the school, and we'll be happy to give you directions to get to the restaurants mentioned above, as well.