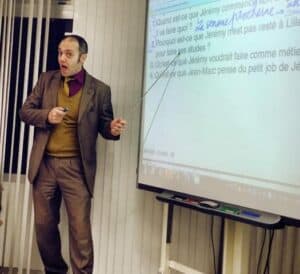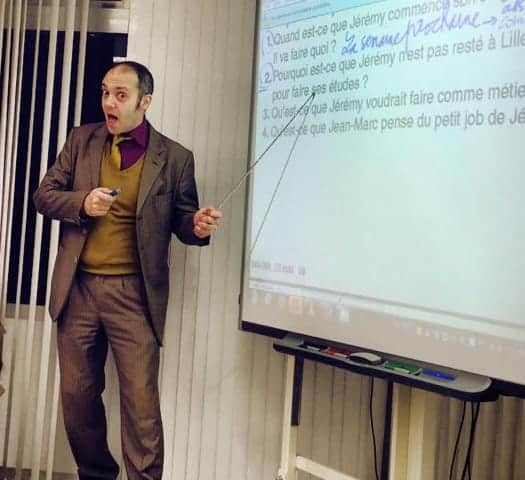 French in Normandy now has not one but two Directors of Studies: Landry Noël remains in charge of academic administration and examinations for students and staff while Olivier Massé, who joined us from

June 1st

is responsible for our teaching team, our teacher training programme for in-service teachers, internal training and product development.
Olivier spent many years teaching and leading the academic team at the French Institute of Japan and he speaks fluent Japanese. During his time in Japan he was still connected to FLE (French as a Foreign Language) in France as he was the principle coordinator for the practical teaching element of French teaching degree offered by the University of Maine in West France. He was also the driving force behind an on-line shared database for French language teachers in Japan as well as working as a consultant for the Institut Français & Alliance Française network in their quality department.
French is Normandy is delighted to welcome Olivier on board especially as he is also the co-author of a series of specialised French language text-books for beginners. « We are very pleased that Olivier has joined us and see his appointment as another landmark in our commitment to ever-higher levels of quality teaching and performance » said FIN Director Eleri Maitland.
What are your first impressions of Rouen?
Olivier: The longer I spend in Rouen, the more my first impression of this city is confirmed: Rouen is the art of living "à la française". It's been a centre of trade for centuries, the area is full of history and culture . Visitors can enjoy a truly authentic provincial capital and unparalleled gourmet experience.  Yet the city offers the best of modern cities -it is dynamic and functional city, with the city's rental bicycles a firm favourite with our students.  For me, after spending many years in crazy Tokyo, I do enjoy the city's green heart as well as the welcoming kindness of the people here.
You have been at FIN since

June 1st

are you planning to make major changes to the school's academic programme ?
Olivier: The school has an incredibly well structured and developed  academic profile and, as a mirror of Rouen itself, it's quiet amazing to have such a level of organisation in language school that has managed to maintain its family feel and size.  So I won't have to make major changes in the overall programme. My goal for the years to come is to make the classes evolve as "connected classes", taking advantage of the cloud technology that everybody is using more and more in everyday life. We want our classes to prepare our students not just to get top DELF and DALF scores but also to be able to truly use the French language in real life situations. This is not just a French in Normandy goal but one that is clearly identified in the European Framework for Languages.
What do you hope to bring to an award winning French language school such as French in Normandy?
 Olivier: We have many exciting projects :"Interaction" is the keyword; we want more interaction between the students in class, between the classes themselves, between the students and the host families and with the teachers altogether. You'll soon be hearing about our plans, using French and learning the language as a result – just keep your ears open!