Improve your French speaking skills in 10 steps
Are you looking to learn French but are afraid of not being able to become fluent in it? This article reveals the top 10 effective ideas to improve your French speaking skills.    
 Developing your French speaking skills 
Primarily, it is vital to enroll yourself in a French language school with proficient language teachers and a wide range of French language courses. Also being versed with the language is much easier than speaking French fluently which involves lots of learning work, reading, talking, and practicing in French.  
Have a look at some of the finest methods to improve your French speaking skills, practice and implement the following tips to speak French fluently.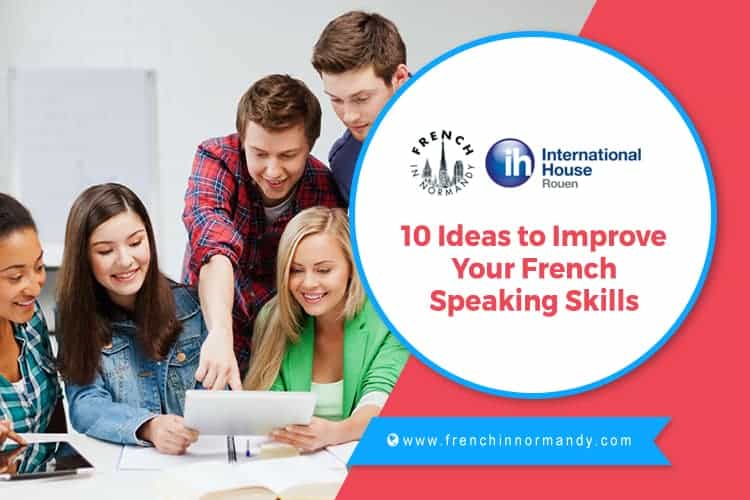 1. Don't Study French in a stretch
Continuing French study for a long span can initially give you severe headaches. Read it for a short span with a refreshing break in between study sessions so that you grasp what you study and indulge in quality studying.  
2. Lock yourself in the room and talk to yourself in French in front of a mirror
Your elders might have suggested you before too but it seriously works. Chat with yourself in front of the mirror; if possible enact a role play be it a teacher-student, cook, a French actor delivering a speech, etc. It facilitates an improvement in giving a response in French in distinct situations. This will also remove hesitation as well in overcoming pauses that usually strike while trying to speak a new language.
3. Go on to listen to French audio anytime and anywhere
Stuff that we hear again and again gets easily stored in our memory box. Try to listen to French audio as much as possible to be able to speak fluently. This may result in a dual benefit of improving listening skills along with getting versed with the language. The finest ways to get the hold of French is to practice the process of hearing, understanding, and finally speaking. Try to memorize what you heard while watching a French movie or a TV show like news or you can make a keyword list which you can go through frequently. 
4. Switch on your TV to watch French game shows
Every one of us loves watching game shows and mostly knows what next anchors are going to utter, and in this way, you can learn French quite easily.
5. Repeat or revise as much as possible
Repetition and revision is the key to learning a language. Just go on to repeat so that you don't forget it easily. 
6. Read French out loud
This could be a little problematic, but reading French loud will work for sure. Reading is the best mode to deal with the complexity involved in the language of France. This would help the reader in the composition of sentences and French dialogue.  
7. Converse with  your classmates in French
This will work cent percent as while conversing with your friend, you will get to hear some new and old words that will be an aid in speaking as well as memorizing.  
8. Don't translate
It is quite obvious that initially while learning, you may translate a bit of French to English, but try to avoid it as much as possible. It is quite possible that you can understand the context of a phrase or sentence or even paragraph even though you might not know the direct meaning/translation of every word. Try not to translate! 
9. Don't adopt a new studying style
Stick to your old and effective style of studying that has delivered your results earlier. If you get to learn easily while reading aloud or by practicing in writing, simply practice it to learn and speak French quickly. 
10. Be serious in your French class
Don't just laugh at it. By being serious in your language class and following the instructions of your teacher, you can learn French easily. Have a deep study of your French course as it is similar to learning French in France. 
---
If you really want to improve your French, consider a full-on immersion experience with us, French in Normandy, an international award-winning French language school in the heart of Normandy.