Choosing to living in a host family is a great decision. Last year 8 out of 10 of our students chose this type of set up for their stay in Rouen. Many students make this decision because a local host family can give you the immersion experience you are looking for through insight into the French lifestyle and culture.
Just like every other experience in life, there are the ups as well as downs of living in a family. Living with others can be difficult especially if they do things differently from you. To make it work, it is best to remember that you should respect the way things are done in your French family and be prepared to enjoy a new experience!
If you generally feel shy or if you find it difficult to start conversations it may be a good idea to bring some photos of your country and the people who are close to you. This gives you a subject to talk about and it helps your host family get to know you. It would also be nice to bring a small gift from your home country or to ask your family if you can cook a typical meal during your stay with them.
Your family will provide you with a single room and bed linen will be changed every week. The bathroom will be shared unless you have requested otherwise, so, please organise a routine with your family and remember that others may be waiting to use it.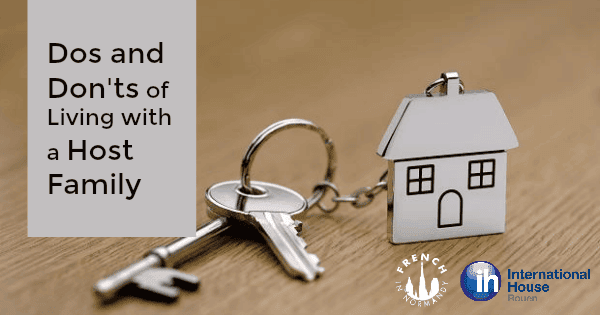 A few simple common-sense rules will go a long way to making this stay enjoyable for both you and your host family:
Some families have outdoor and indoor shoes. If this is the case, please remember to take off your outside shoes when you come in.
Do not smoke indoors.
Follow the family routine for things such as meal times and bed times. Even though you paid to stay with this host family, you need to keep in mind that you chose this option over a hotel because you want to connect. The people you're living with may not be your relatives, but they still worry about you and want you to feel welcome.
Please keep your room tidy and do not keep food in it! Rinse the bath after use, leave the WC clean and last, but not least, do not waste electricity or water!
Do not use all the hot water.
Do not fiddle with the TV, computer or heating settings and please tell your family, the school or both if you are feeling too cold or hot.
After 10.30 at night please keep noise to a minimum, including the use of mobile phones. Use headphones if necessary and keep your phone on Vibrate or preferably Silent mode.
Arrange with your family ahead of time if you are going to be out late or miss a meal, or if you want to invite someone round. Mealtimes are a great time to connect with the family that's hosting you. Food is known to bring people together so if you can try to be at home to help set the table or do the dishes. Apart from this being polite it is also a great communication opportunity.
Your family is happy to do light washing but please ask them if you can use the machine when you like for other washing.
These points may seem like a lot to follow, however, the gist of them all is that you should respect the people you live with as they are opening their homes, so you can get a better language and cultural experience. Communication is key in this kind of set up so always keep in mind that you can speak to the family or to the school representatives if you have any concerns or doubts.