French, which used to be the world's language of diplomacy, is considered as a very expressive language and one that is very suitable to several jobs. Although there are many jobs available where your knowledge of French will get you far, it is vital to find a job that interests you and where your French language skills will be fully utilized.
Finding a French language career may be challenging but if you look in the right industries, you'll be sure to find an industry which is rewarding and allows you to converse in French regularly.
---

French is the 16th most spoken language in the world. It is still spoken in 54 countries, with 29 countries using it as their official or one of their official languages. About 77.2 million people are using it as their mother tongue. Around 60.4 million L1 (first language) speakers are located in France. Worldwide, more than 279.0 million are French speakers. 
French is a vital language in commercial and administrative contexts in many countries such as Brazil, Poland, Greece, Lebanon, Egypt and India. French is used a business language in the African Union and a working language in important international organizations like Amnesty International, the United Nations and the Médecins sans frontières. 
5 Careers Where You Will Use Your French Language Skills
According to studies and surveys of language learners and language schools, French is an easy language for an English speaker to learn. Whether French is your mother tongue, you're bilingual or you've studied French, several opportunities for employment are available for you. We have compiled some of the most interesting jobs where your fluency in the French language will take you far.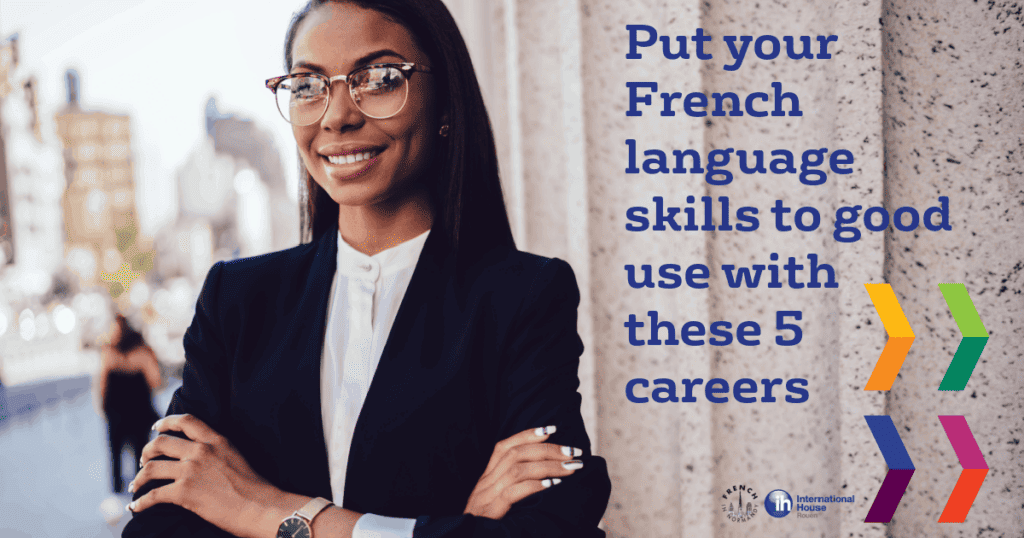 ---
1. French teacher
If teaching is your vocation and you are fluent in the language, this is a good position for many of you. French is one of the most studied languages today, so several language schools and mainstream schools need good French teachers.
There are different opportunities for teaching and the professional requirements differ. One of the things you have to decide is the age group. You can either teach early childhood, kindergarten up to 6th grade or you may want to teach children in the 7th to 12th grades. If you have the right qualification, several colleges and universities have French language programs. You can also try institutions that provide continuing education and language classes for adults. 
Your teaching credential is the most important requirement for any teaching job. Find out the credentialing process for the age group you want to teach, as this varies between countries, provinces and states. You must at least have a Bachelor of Arts degree. 
In all of the age group categories mentioned above, the requirements for teaching adults are the easiest to meet. Depending on where you are located, some adult education centers do not require their language teachers to have credentials, although the wages would be lower. In most cases, it is financially beneficial if you have the right credentials to teach. 
2. Interpreter or translator
These language services are highly specialized and require more than being fluent in two languages. However, if you are qualified, offering French translation opens many opportunities for you to work from home or anywhere. A translator deals with the written word, so you can accept jobs for translating manuals, instructions, poetry, articles, books or manuscripts. 
An interpreter does oral translation and requires expertise. Most interpreters work for large organizations. They can also be connected to language services providers. Still you may find freelance interpreting work in the tourism and travel sector. 
If you are interested in interpreting or translation work, it is better to have a degree in interpreting or translation, credentials from industry organizations such as the American Translators Association (ATA) and membership in an industry organization. Many language services providers offer specialized services in the legal, medical, scientific or financial fields where knowledge of particular terminology is required.  
3. Tourism, travel and hospitality
If you are into traveling and you speak French and other languages, the travel industry is one of your options to find work. You can consider a job as a flight attendant or even a ground crew for an airline. You can try finding work as a local tour guide for foreign tour groups to go around museums and other tourist destinations. Many tour companies offer tour guides who speak French and other languages. The hospitality field likewise needs French speakers. You can work at ski resorts, camps, hotels and even restaurants. 
4. Foreign service
If have the right qualification, you could have an amazing French language career in diplomatic services. You can apply for a job as a foreign service staff in consulates and embassies around the world. The requirements vary from country to country, so it is vital to search for information from the government website of your country. There could also be a waiting list once you pass the exams, so this type of work is not for someone who wants to work in a hurry.
5. Multilingual proofreader
If you have an excellent understanding of French spelling and grammar and you love reading, you can try applying as a proofreader in the publishing industry. Publishing houses and magazines are possible employers. They need people who can edit and proofread materials before publication. You can also edit/proofread French language websites for translation errors, typos and mistakes in spelling. 
See to it that you have the right qualifications aside from being a fluent French speaker when you want to work in any of the positions we've suggested. A French language career can be challenging and rewarding and help you keep your language skills current.
---
If you need to improve your French for professional purposes then trust our highly qualified instructor to help you reach your language goals either with an online French course or in-class at our school in Rouen.