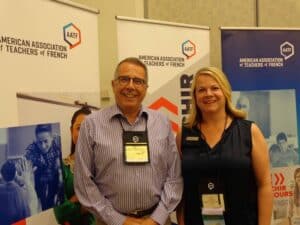 Christian Gaujac, French in Normandy, recently attended the 92nd annual convention of the American Association of Teachers of French (AATF) held July 14-17, 2019, in Philadelphia. He has been working for more than 30 years in FLE is in now in charge of partnerships in his school. Christian was an active participant as an exhibitor in this unique gathering of over 300 French teachers from around the U.S. and from several other countries. Participants in the convention were able to learn about the history of Philadelphia and its relationship to France through lectures and presentations as well as numerous excursions. In addition, there were over 120 workshops and sessions on the teaching and learning of French and the cultures of the Francophone world.
The AATF, founded in 1927, is the largest national association of French teachers in the world
with nearly 9500 members. It is organized around 70 local chapters and governed by a national
Executive Council of 18 members. National Headquarters are located in Marion, Illinois. The
AATF publishes the French Review and the National Bulletin and holds an annual convention
which alternates between sites in Francophone countries such as Canada, France, and also in the
U.S. Its award-winning Web site [www.frenchteachers.org] contains a multitude of information
and materials of interest to French teachers at all levels. The AATF also sponsors the National
French Contest and National French Week (Nov. 4-10, 2019).