Learning French has several personal and professional benefits, primarily for students because French is the sixth most broadly spoken language on the planet!
When starting to learn French in France, the most common question asked by students is, "how quickly can I learn French"?
Well, there is no specific answer to this question because there are several factors that need to consider while answering this question.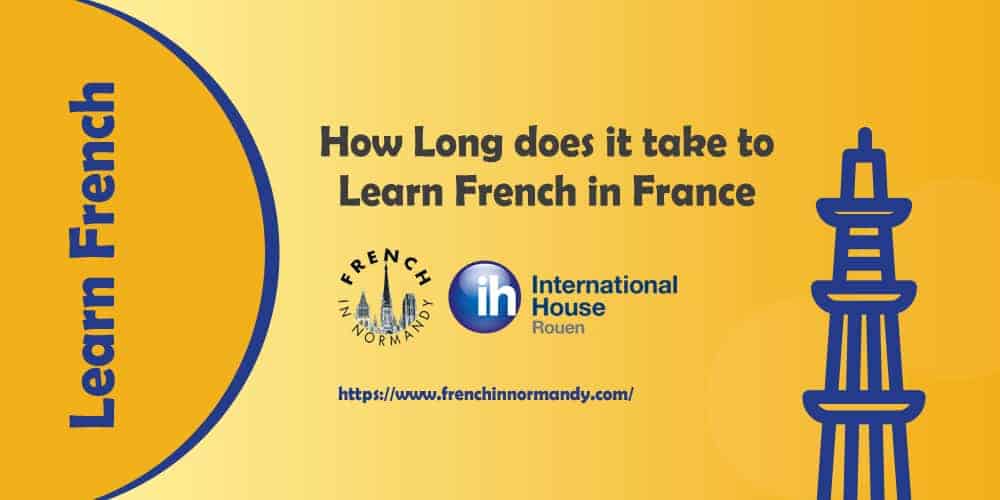 The first question is, do you want to learn basic French or advanced level? Because advanced level learning will surely need a significant amount of time as compared to primary. Basic French knowledge includes you understand and speak everyday need words. But advanced level consists of a full fluent flow of French-speaking and writing.
Here are some other factors that will determine how much time you will need to learn French in France.
Knowledge of Romance Languages: If you already know other romance languages then you can save some of your time of French learning. Popular Romance languages are Spanish, Italian, French and Portuguese. All these languages have similar grammatical vocabulary and features. It is proved by several studies that Bilinguals easily learn a third language compared to others. Thus, if you know Spanish and English languages, then you can learn French fast, compared to students who start from Scratch.
How You Are Learning: We all know, learning methods play a significant role in any language study. Best practices can improve your education while the worst ways can slow down your speed of learning. If your French learning is limited just to the classroom study, then it will take a longer time. You need to expose your French learning outside of classes. You can read French phrases and words online, listening to French eBooks or audios, watch French movies and videos, Practicing French Conversation, play French games and can travel to a French-speaking country.
Time Dedicated to Learning: how long it takes you to learn French also depends on the time, you spend to learn it. Have you joined a French course? Have you taken admission in a French language school? What's the timing of class, how many hours you are sending daily, weekly, or monthly basis to learn French. How skilled and expert your teachers are? These are some of the questions which will play a significant role in your French learning. 
Your Motivation: Motivation is the key to learn any language fast. So how motivated you are to learn French will also affect your learning time. By keeping yourself motivated, you can study French fast. Like what is your aim behind learning French, how French learning will improve your life, what are the personal and professional advantages of French education are some of the good examples of motivation. 
Learning Environment: Good learning environment is also important to study any language fast. It will allow you to practice often and spend lots of time with language speaking, listening and reading. If you are learning French in France, then you can get this learning environment easily at FrenchinNormandy.com .This is one of the #1 French language schools in France.
Your Attitude: Attitude also plays a significant role in language learning. There are two types of attitudes 1) positive and 2) Negative. If your approach to French study is positive, then you can learn it fast. You will study French just like a fun and fantastic opportunity to improve your personality skills. But when you have a negative attitude towards learning French, you will find it complicated, and boring.