Learn French Through Theatre
Learning French at French in Normandy involves many different kinds of activities to help improve your overall French skills. In Nathalie's B1 class, students recently had to write and read a piece of theatre. We're proud to share with you the first of two scripts, written by French in Normandy students.
The plot starts with news in a journal, what comes next is pure classroom imagination!
Read it out loud and have fun. Also be sure to study the French theatre vocabulary below.
LE SECRET
Sofia CHICO CORPIZO, Nae KATO, Han Bin LEE,
Hyun Jin PARK , Natsuki SUNO.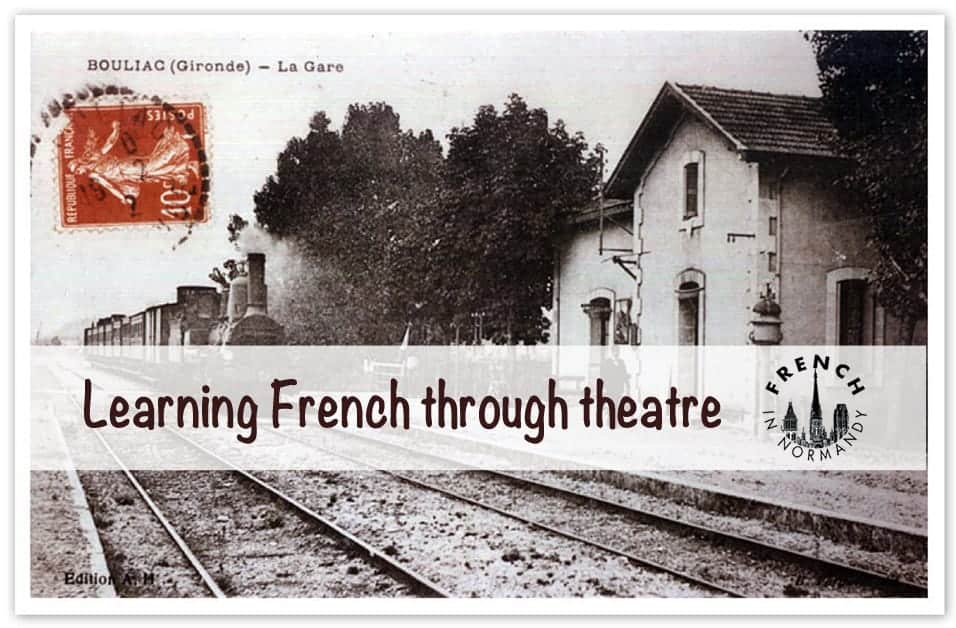 PERSONNAGES 
PIOTR : fils qui a quitté son village natal et qui revient chez lui 25an plus tard.
SOFIA : la femme de Piotr.
YOUBA : la fille de 10 ans de Piotr et Sofia.
OLGA : la mère de Piotr.
MARINA : la fille d'Olga et la sœur de Piotr.
L'action se passe à Trebon, village de la République Tchèque.

ACTE I
A la sortie de la gare de Trebon.
Piotr, Sofia, Youba.
PIOTR : Ca fait longtemps ! La gare n'a pas beaucoup changé.
SOFIA : Oh, mon chéri… C'est vrai, le temps passe vite.
PIOTR : C'était dur de travailler pendant 25 ans !
YOUBA : Pourquoi nous sommes ici, maman ?
SOFIA : Parce qu'ici, c'est le village natal de ton père et on va rendre visite à ta grand-mère.
PIOTR : Oui. Et aussi ta tante sera là-bas. Elles seront choquées parce qu'elles ne savent pas que nous sommes ici et que nous sommes devenus riches.
SOFIA : On y va ! On doit prendre le taxi.
PIOTR : D'accord ! Mais je prends un taxi différent.
YOUBA : Pourquoi ?
PIOTR : Parce que je vais d'abord aller chez ta grand-mère pour la surprendre et vous allez attendre à l'hôtel. A plus tard.
ACTE II
A l'accueil de l'hôtel tenu par Olga et Marina.
Scène 1
Olga, Piotr, Marina.
OLGA : Bienvenue à l'hôtel de Trebon !
PIOTR : Bonjour, je voudrais la meilleure chambre de cet hôtel. (Il ouvre son portefeuille rempli de billets pour payer).
MARINA : (étouffe un cri) : Oh, mon dieu ! (A part à Olga) Tu l'as vu, il est très riche !
OLGA : (à part, à Marina) Oui, c'est incroyable !
MARINA : (à Piotr) Voici la clé de votre chambre.
(Piotr se dirige vers sa chambre).
Scène 2
Marina et Olga 
MARINA : J'ai une idée… !
OLGA : Quelle idée ?
MARINA : On va le tuer et prendre son argent.
OLGA : Bonne idée !
MARINA : On sera enfin riches !
ACTE III
A l'accueil de l'hôtel tenu par Olga et Marina.
Au petit matin
Scène 1
Olga et Marina
(Elles arrivent à l'accueil par une porte dérobée).
OLGA : C'était parfait. Nous avons tué cet homme. Nous avons jeté son corps dans la rivière avec le marteau. Personne ne le retrouvera !
MARINA : Oui, bien sûr. (Folle de joie) Nous sommes riches maintenant !
 Scène 2
SOFIA, Olga, Marina et YOUBA
(lumière tamisée, c'est le début de la soirée. Sofia et Youba arrivent à l'hôtel).
SOFIA : Bonjour. Où est mon mari Piotr ?Il est venu ici pour voir sa mère et sa sœur. Il ne les a pas vues depuis 25 ans.
OLGA : (étonnée) Euh….
(Olga et Marina quittent l'accueil très rapidement).
ACTE IV
Dans la chambre de Sofia, 20 ans plus tard
Scène 1
Sofia (alitée et agonisante), Youba (à côté d'elle)
SOFIA : Je suis désolée, Youba. Je t'ai caché la vérité.
YOUBA : De quoi parles-tu ?
SOFIA : Je t'ai dit que ton père était mort d'une maladie. La vérité, c'est que ta grand-mère et ta tante l'ont tué. Je suis désolée mais c'est la pure vérité.
YOUBA : (surprise et presque sans voix) Ah…
SOFIA : J'ai autre chose à te dire.
YOUBA : Je t'écoute, maman.
SOFIA : (dans un dernier souffle) Après la mort de ton père, elles sont devenues folles et se sont suicidées.
(Sofia rend l'âme).
YOUBA : (crie) Ah !
Le rideau tombe.
---
Learn French Theatre Vocabulary / Vocabulaire utile
Un billet : a ticket
La salle : the playhouse
Loge d'avant-scène : a stage-room
Un fauteuil : a seat
L'orchestre, le parterre : the pit
Le rideau : the curtain
La représentation : the performance
La scène, les planches : the stage
L'avant-scène : the front of the stage
L'arrière-scène : the back of the stage
La toile de fond: the back-drop
Côté cour : the left-stage
Côté jardin : the right-stage
Le décor : the scenery
Un décor : the set
Une compagnie, une troupe : a theatrical company ; a troupe
Un comédien, un acteur, un interprète: an actor
Une comédienne, une actrice, une interprète : an actress
Mettre en scène : to direct, to stage
Un décorateur : a stage-designer
Un régisseur : a stage-manager
Monter une pièce: to produce a play
Distribuer les rôles: to cast a play
Répéter: to rehearse
Une répétition générale: a dress rehearsal
Les accessoires : props
Le maquillage : the make-up
Entrer en scène : to come on the stage
Le trac: stage fright
Avoir le trac: to have stage fright
Jouer : to play, to act, to perform
Un rappel: a curtain call
Une affiche : a poster ; a display
Une pièce de théâtre : a play
Un entracte : an intermission
Le public, les spectateurs, l'auditoire, la salle : the audience
Un échec, un four : a flop
Une salle pleine, salle comble: a full house
Le rideau tombe : the curtain falls
La relâche : theatre closed
---