Your urge to travel is probably even greater now that you can't go anywhere.
While confined to your home for the greater good, you can still satisfy your curiosity by armchair travelling to Normandy, one of the most popular regions in France. Discover the capital, Rouen, the infamous Normandy beaches, the monuments, the food and the museums of the region with our list of favourite virtual visits.
Delve even deeper into your French desires with an online French language course offered by none other than, French in Normandy!
On y va! Let's go!
---

#1. Rouen in Motion
A glimpse into the economic and cultural capital of Normandy and home to our school French in Normandy. Rouen is a bustling, historic city of 112,000+ inhabitants, just waiting for your arrival. Roam the streets, explore the treasures of the old town and view the timbered houses with this fabulous time lapse video of Rouen
#2. Dieppe Kite Festival
The Dieppe Kite Festival was established in 1980. This is one of the largest festivals of this kind in the world and every year it gathers thousands on the Alabaster Coast of Normandy. Attendance to the Festival is free. Activities are very diverse, which ensures that everyone will find something according to his / her liking. Some of you might wander around exhibitions, some will attend various workshops or watch kites in action. And if you're a fan of traditional music, theatre and dancing, you'll find plenty of entertainment.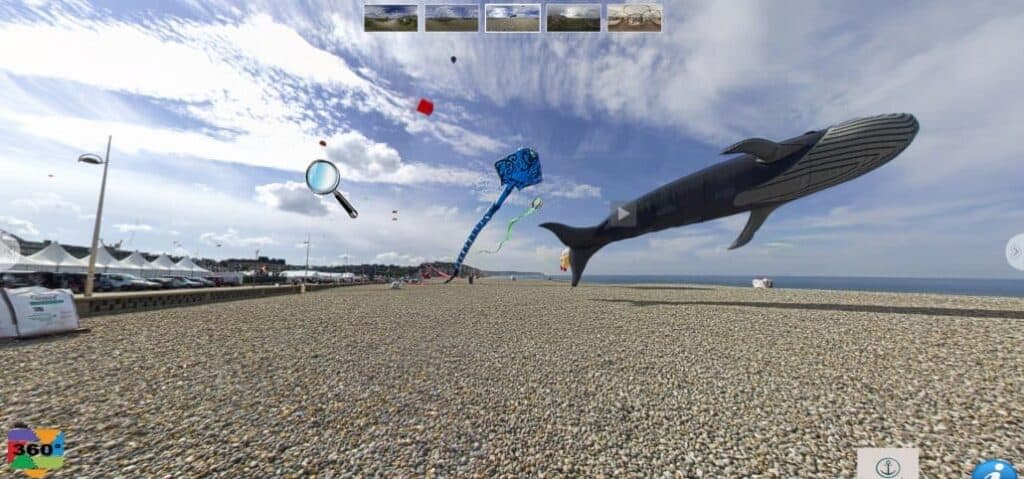 #3. D-Day Landing Beaches as never seen before from above
On June 6, 1944 Allied forces landed on Normandy's beaches in order to launch the larges invasion and liberate the German-occupied French territory. D-Day Landing Beaches include Utah Beach, Omaha Beach, Gold Beach, Juno Beach and Sword Beach. You can get a really good (virtual) look of the D-Day beaches in this video. And once travel resumes, feel free to go there in person. You won't regret it.
#4. Time lapse: Mont Saint Michel
Mont Saint Michel is Europe's most unforgettable sights. It is set where Normandy and Brittany meet and its location inspired the imagination of many. This is a video that has toured Mont Saint Michel and the world. If you haven't seen it  yet or want to relive a day of high tide around the most visited site in Normandy, then check it out.
#5. Chateau de Caen
Built around 1060 by William the Conqueror, what was once the ducal castle of Caen, now is home to the Normandy Museum and Museum of Fine Arts. As of 2004 the town of Caen has gone through some major restoration which finally provided a better view of the 12th century walls, discovered a private cellar and so on.
#6. Rouen: Musée des Beaux Arts
This museum was founded by Napoleon I, back in 1801. The Museum of Fine Arts in Rouen holds some of the most prestigious French collections of paintings, sculptures, objects and drawings. It houses some of the greatest works from Perugino. Veronese, Velazquez, Poussin, Delacroix and many more. This is a place of one of the largest impressionist collection in France.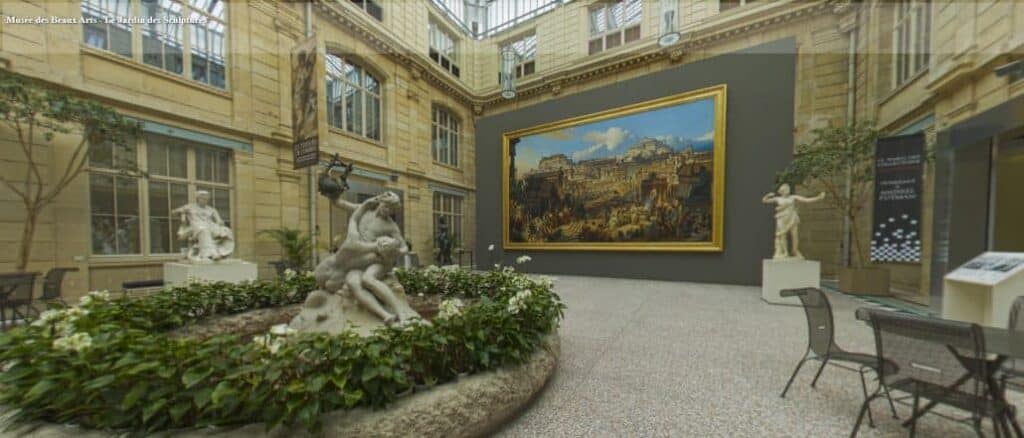 #7. The Great Eats of Normandy Food Tour
These food tours will take you into a whole new place…into the heart of Normandy. Follow a magnificent trip to Caen and Bayeux with your host and see what type of Norman delicacies can you discover. Take your pick from famous cheeses and dairy products, fresh baked goods, wine and ciders.
#8. Rouen: Notre Dame Cathedral
As the name suggests, this is not the same as the Notre Dame Cathedral in Paris, but it doesn't mean that it's less stunning. The Notre Dame Cathedral in Rouen was established in the 4th century, enlarged in 650 and unfortunately perished during the Viking raids in the 9th century. But the same Vikings and their descendants restored it and further enlarged it in 950. Over the course of history the Rouen Cathedral was severely damaged and restored several times. Some of its paintings were done by Claude Monet, a famous Impressionists. Monet created several paintings picturing the Cathedral in different weather and in different times of the day.
#9. Monet's house & gardens
If you stop by at Monet's house in Giverny, you can still see the Japanese bridge in his garden. Furthermore, the weeping willow, which one the subject to some of his most famous pieces, is still there. This house of one of the most famous French Impressionists was fully restored to their original condition from back in the 19th century. Even Monet's studios are made complete with the reproductions of his most famous paintings.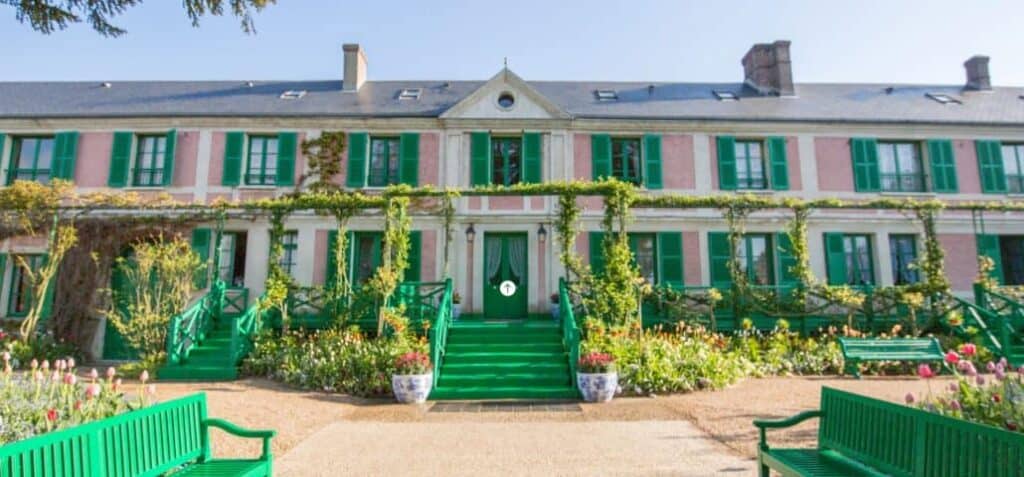 #10. A weekend at Étretat, a virtual trip
Étretat is a small commune in Normandy. This charming tourist town is best know for its chalk cliffs especially those three natural arches and a formation called L'Aiguille ("Needle" in French). The cliffs have been an inspiration to many artists include Boudin, Courbet and of course…Monet.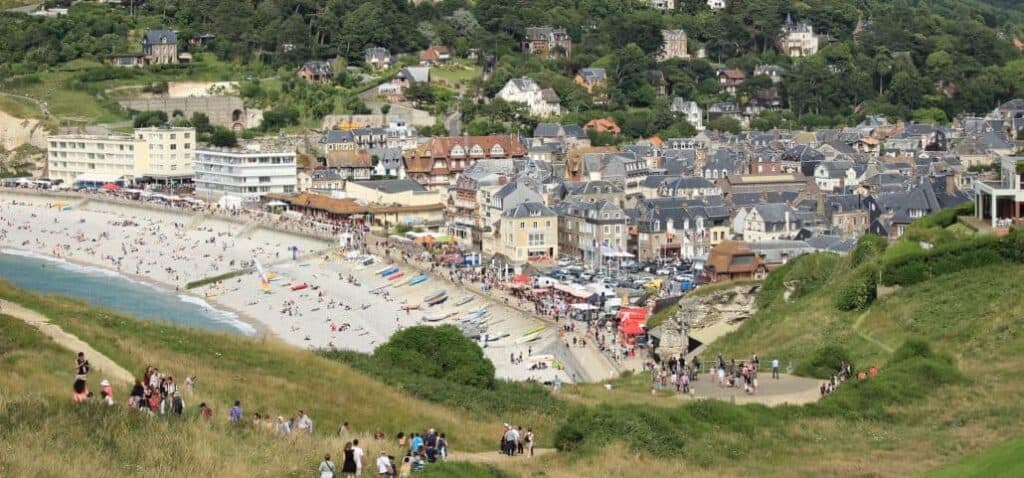 BONUS VIRTUAL VISIT
#11. Rouen: French in Normandy
Take a tour of our international award-winning French language school, French in Normandy. Consider taking a DELF online exam preparation course while you keep yourself safe and at home!