Learning any language is a wonderfully rewarding experience. Not only can it open many doors professionally and academically, but it can also be so much fun on a personal level, because it invariably involves meeting and getting to know people from different backgrounds.
---
Language learning is inherently social. Whether you're in a bar, at a party, or another social situation, chatting to someone and practising your language skills and pronunciation is one of the great joys of learning a language. 
But, for some reason, add a bit of formality into the mix, like having a conversation with someone in an oral exam, and suddenly it's easy to feel nervous and like you can't get the right words out… or even any at all! 
If you ask language students what the most nerve-racking part of exams is, they'll often tell you it's the speaking exam. 
Here at French in Normandy, we offer courses that provide complete preparation for all the main French exams, and we know that ultimately the key is practice! As part of the preparation, we recreate the conditions of the exams so there are no surprises on the day. 
You can find more info on all our courses for exams and diplomas here.
Below you'll find our tried and tested tips for beating your nerves and doing well in your French oral exam. But first, let's get familiar with the different French speaking exam formats.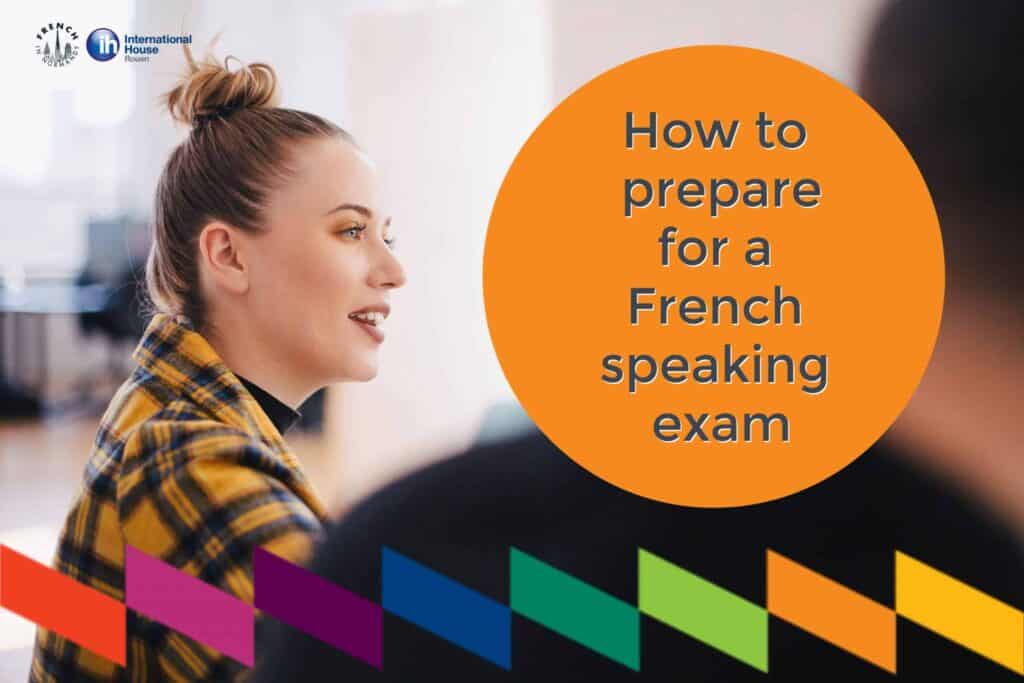 ---
What is the format of French oral exams?
Typically, French oral exams will assess your ability to communicate in the language through a combination of guided conversations, role play scenarios, short presentations, and questions and answers. 
Below you can see a breakdown of the format in each of the speaking exams that form part of the examinations for the DELF, DALF and TCF qualifications issued by the French Ministry of National Education. 
We offer courses to prepare for all these exams here at our school, French in Normandy – you can find full details here: 
These qualifications are intended for anybody who wants to have their French language skills assessed for personal, academic or professional reasons, and in some cases they're required, either to apply for French nationality, jobs or study programmes. 
Exam & level
Format
Preparation time
Duration

DELF A1

More information: https://www.ciep.fr/en/delf-tout-public/detailed-information-the-examinations

3-part test: 

– Guided conversation

– Exchanging information

– Role play

10 minutes

5-7 minutes 

DELF A2

More information:

https://www.ciep.fr/en/delf-tout-public/detailed-information-the-examinations

3-part test: 

– Guided conversation

– Exchanging information

– Role play

10 minutes

6-8 minutes

DELF B1

More information:

https://www.ciep.fr/en/delf-tout-public/detailed-information-the-examinations

3-part test: 

– Guided conversation
– Interactive exercise
– Expressing an opinion on a document designed to elicit a reaction

10 minutes (only for third part of test)

15 minutes

DELF B2

More information:

https://www.ciep.fr/en/delf-tout-public/detailed-information-the-examinations

Stating and defending an opinion based on a short document designed to elicit a reaction

30 minutes

20 minutes

DALF C1

More information:

https://www.ciep.fr/en/dalf/detailed-information-on-the-examinations 

A presentation based on a series of written documents, followed by a discussion with the examiners.




   

Candidates can choose between two fields: humanities and social studies, science

1 hour

30 minutes

DALF C2

More information:

https://www.ciep.fr/en/dalf/detailed-information-on-the-examinations 

Speaking is examined jointly with listening in a 3-part test:




– Write up the contents of a recording (played twice)




– Personal development based on the problem given in the recording




– Debate with the examiners.




Candidates can choose between two fields: humanities and social studies, science

1 hour

30 minutes

TCF

The Test de connaissance du français contains an optional speaking assessment.

More information:

3-part test:

These 3 tasks evaluate the candidate on the six levels of the scale on the Common European Framework of Reference (from level A1 to level C2).

Task 1 – Interview given without preparation.

Task 2 – Exercise in interaction with preparation.

Task 3 – Expression of a point of view without preparation.

Task 1: 0 minutes

Task 2: 2 minutes

Task 3: 0 minutes

Up to 12 minutes 

Task 1: 2 minutes

Task 2: 5 minutes 30 seconds (of which 2 minutes are for preparation)

Task 3: 4 minutes 30 seconds 
But now you know how each exam is structured, how do you prepare?
---
10 ways to stay calm and do well in your French speaking exam
We're all human and even those of us who come across as confident and extroverted will sometimes experience nerves. Don't worry – we've all been there and feeling nervous before an exam is completely natural. 
The good news is, with a few simple tips and techniques, you can calm your nerves and focus on giving your best in your oral exam. 
Before the exam
Prepare in the best way – with a course
Practise as much as you possibly can – there really is no substitute for the hours you spend speaking, listening, reading and writing in the language. Make sure you've covered pronunciation, verbs and essential vocabulary. 
However, by taking a course, you'll find your preparation can be doubly effective. 
"Following my experience, I recommend to all students who wish to pass a language exam focus on learning the language for the desired level and, afterwards, taking specific courses for exam preparation – because there are specific techniques to learn that are difficult to discover if you're self-taught."
– Savio, a student at French in Normandy
Eleri, the director of our language school, says: "At French in Normandy we encourage students to listen to the radio, watch TV in their homes and make the most of every opportunity while they are staying with us, as it all contributes to their level of fluency and comprehension. Our DELF and DALF classes are designed to rigorously prepare students for each part of the exam and to train them to fully understand and answer the requirements of each part."
Know what to expect
In the French classes here at French in Normandy, students not only strengthen their language skills but also become familiar with the format of the exams they're taking and practise extensively. 
Agathe, one of our French teachers, says: "People dread the exams mostly because they lack confidence. Here at French in Normandy we do everything in exam conditions for that very reason so that it becomes second nature."
"Our preparation and exercises are the closest possible to those which they will find in the real exam and we work in the same conditions as the exams themselves so that gradually they become used to the way that they must approach the exam and they are able to function independently with an inbuilt checklist for their answers so that they are able to get a maximum number of points."
Rehearsing in the same conditions means you won't face any surprises on the day. It's just another conversation that happens to follow a certain format – which is good, because you know exactly what to expect! 
Just knowing how long each stage takes and what it will cover helps you prepare more effectively, and you can be ready with the grammatical knowledge and vocabulary you know you'll need to demonstrate.
 
Get lots of sleep and eat a good breakfast
Christian, a teacher here at French in Normandy, recommends "good preparation, good sleep, relaxation exercises, good food, not studying too late, not studying the night before, and expressing concerns to teachers and friends."
Sleep is incredibly important – as is having the fuel you'll need to feel alert and engaged. Whatever you do, don't risk staying up to do extra revision. Your preparation for an oral exam needs to take place over a lot longer than one night so now is the time to look after yourself and get plenty of sleep so you wake up feeling energised and ready to focus during the exam. 
 
Practise mindfulness techniques 
Whether or not you practise mindfulness regularly, taking a few minutes to slow down and focus on your breath, the sounds around you, or something else can help you feel more relaxed, focused and collected – the perfect frame of mind for an oral exam. 
Download an app or look for podcasts with short guided meditations. Sometimes we invite speakers in to teach our students these techniques (in French!) 

During the exam
Remember it's just a few minutes 
On the day of the exam, try to remember it's a very short time! You're only actually going to be in the room with the other person for a few minutes. 
If you have a treat or celebration of some kind arranged for after the test, it can be easier to remember it's only a few minutes out of your life. Keeping it in perspective can help you feel less nervous and instead focus on making the most of it. 
Make it a conversation 
Try to think of it as a conversation with someone you've met rather than a formal exam. Using body language such as making eye contact, smiling and moving your hands can help it feel like more of a two-way conversation. 
You'll get into conversations with native French speakers again and again – this is really just another one. The more you can relax and treat it as such, the more likely you'll express yourself fluently and show what you know. 
Remember the examiner is 100% on your side – they want to provide you with the space you need to do well, and don't feel embarrassed if you do make mistakes as they'll have heard it all before. 
Listen to the questions
You're being assessed on your speaking skills in the language, but it's just as important to listen. Don't assume or pre-empt – listen carefully to each question. 
You want to make sure you're answering on the right topic, of course, but you'll also pick up on what tense the examiner is using and the words they use – these things can be a useful steer for your answer. 
You can practise your aural comprehension by listening to the news, podcasts, watching films or boxsets and talking to teachers and fellow learners. 
Use your conversational toolkit
It's perfectly normal to need to compose yourself and think of your response in these exams – and one way you can buy yourself some time without having an extended pause is to use some stock phrases.
"Could you repeat the question please?" ("Pouvez-vous repéter la question, s'il vous plaît?"), "Let's see" ("Voyons voir"), and "It's difficult to say" ("C'est difficile à dire") are just a few examples. Repeating the question is another good technique. 
These are all things you can have up your sleeve ready to use when needed. 
Speak about what you know 
If you give short and narrow answers to the examiner, they may ask you follow-up questions or change the subject to something else. 
Rather than leave it to them and to chance, when giving your answers you can lead the conversation on to topics you know you feel confident talking about. 
After the exam 
Don't fret about the results 
You've given it your best shot so there's no use going over it now! You deserve to enjoy yourself and celebrate finishing your exam. 
---
How we prepare you for your French speaking exam
When you take any of our courses, you'll get all the guidance, lessons and practice you need to become confident speaking French. 
In this blog post you can find out more about how long you should expect it to take to learn French.
Or go here for more information on all the courses you can take here in our school in Rouen in Normandy.