Deciding where to study French in France is difficult – because there is so much choice!
France is a big, beautiful country which can offer almost everything you might want. There are busy Mediterranean resorts with warm seas, or Atlantic Western coasts perfect for body-boarding. There are fields filled with sunflowers in summer, or vegetables and wheat further north. France is dotted with tiny villages and country towns, and every region has at least one city with its own character, local food and culture. And lots of those offer French courses.
The best way to learn French in France is to make the most of this and become part of the community wherever you study. So how will you make the choice?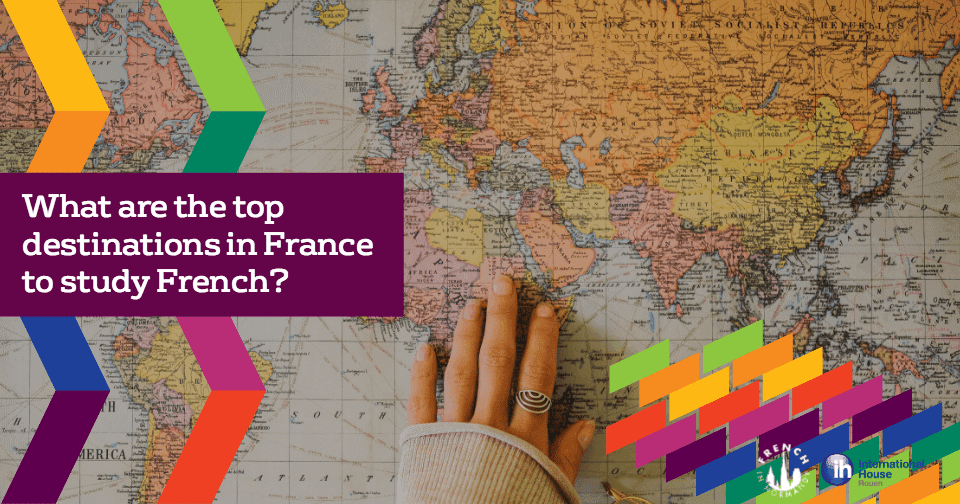 Where to study French in France: think about you
What kind of person are you? What kind of student are you? Where do you feel happy?
You might be the kind of person who will enjoy any of the top destinations to improve your French. Or you might be the kind of person who is only really happy in certain surroundings. 
So start by asking yourself some questions. Be honest with yourself – this is an important decision!
Do I like living in a big city or would I prefer somewhere quieter?

Why do I want to study French in France? Do I want to prepare for French examinations, improve my language skills for my career, be able to study in a French university or specialist school? Or am I motivated by personal development or to experience living in a different country? 

Would I prefer to study in a small school or a large one?

Do I want to party a lot, or do I prefer to have some quieter time as well as socialising?

How much French culture do I want to enjoy? What type of culture do I most want to experience? Food? Museums? Historic buildings? Music, theatre and cinema? 

Do I want to be somewhere where I can walk in the countryside or visit the beach? 

Do I want to live in a residence or with a French host family?

What's my budget? Do I need to think about cities that offer better value for money?

Do I want to travel around France or more widely in Europe while I'm studying? 
Your answers to all of these questions will help you choose where to study French in France.
What are the top destinations in France to study French?
So, you've got more of an idea about what surroundings you need to study French in France and pass your French examinations! The next thing is to think about the top destinations to improve your French.
Before you do this, remember that Paris is by far the biggest city in France. Depending on how you measure the population, it has approximately 10 million residents. The next biggest is Lyon, with around 1.5 million residents. Here in Rouen, we have about 450,000 residents in the city centre, and we think we're a perfect size for everything!
Let's look at some of the top destinations to improve your French
Paris Think about France and you think about the Eiffel Tower, Notre Dame and Montmartre. Paris is a city for lovers, for intellectuals, for tourists and for people in a hurry. But it may also be the toughest place in France for you to improve your French, as you're more likely to find people who speak your own language to you. It's also not going to be the most cost-effective option.

Everyone should visit Paris and practice their French there. But for most people who want to learn French in France, the best option might be to find a destination to improve your French where you can visit Paris without too much difficulty.
Lyon is France's third-largest city, south of Paris and not far from the Swiss border. There are plenty of students here because of the university and it's relaxed and friendly. It is a UNESCO World Heritage site. 
Nice is on the Mediterranean coast close to the Italian border and one of the most-visited cities in France, getting around four million tourists through the airport each year.


Marseille is the largest city on the Mediterranean coast and France's busiest port – it's also France's third-largest city in area.
Montpellier is just inland of the Mediterranean in the south of France. Around a third of the population are students from the three universities and other higher education institutions. 
Biarritz became famous as a spa destination and then one of Europe's premier tourist resorts in the 19th and 20th centuries. Biarritz is on the Atlantic coast and became the first surfing resort in Europe, and is close to the border with Spain.


Toulouse is called The Pink City because of the bricks used to build many of its buildings. It is France's fourth-biggest city, and the university has the country's fourth-largest university campus. It is the centre of the European aerospace industry and has two UNESCO World Heritage sites.
Rouen is obviously our favourite place to study French in France – because that's where French in Normandy, our school, is based!
Why do we think Rouen is a good place to study? Here are a few reasons:

Perfect size (around half a million people) so it's small and friendly with lots of French speakers to talk to

Amazing architecture and history – there's the Cathedral, a 14th-century clock and the castle as well as lots of museums and a colourful history

Food! Rouen is in Normandy which has some of France's best cheeses and regional dishes

Great transport links to the rest of France and Europe. Rouen is just 1.5 hours from the centre of Paris

French in Normandy – our school has years of expertise in helping students study French in France and pass French examinations.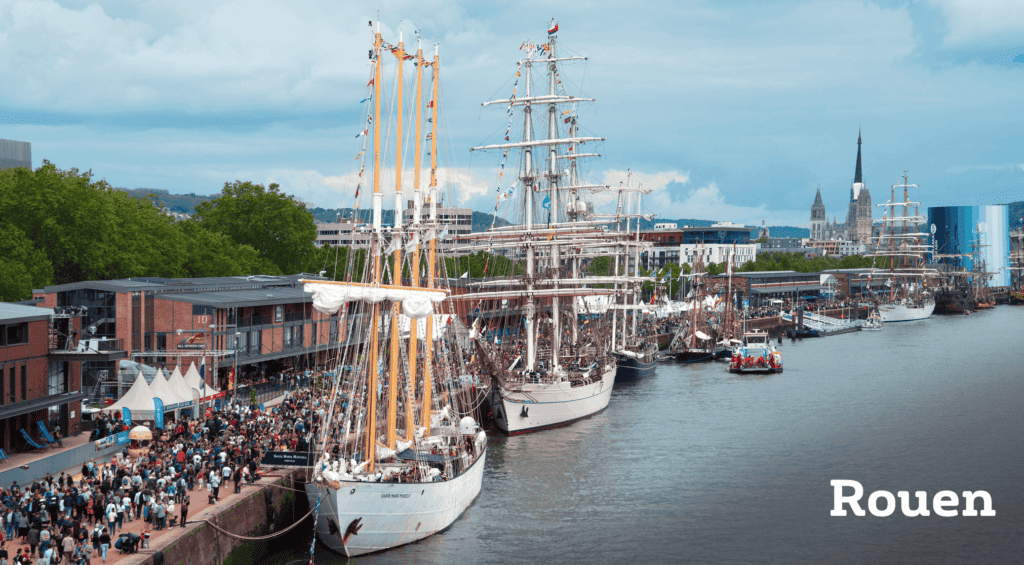 ---
So how will you choose where to study French?
It's a great choice to make – but only you can make it.
There are some great French courses in France and lots of top destinations to improve your French. 
Remember, that the best French courses for you might not be the best for everyone. If you want to succeed, and perhaps pass French examinations, you need to think about what kind of place will suit you best.
It's important to consider what kind of place will be best for you, what your budget is – and what the school is like.
Do you need more help to decide where to study French?
We're happy to help. We offer French preparation courses for DELF and DALF and TCF/TEF, or can simply help you improve your language skills.

Contact us if you'd like any more information about what we offer and how we can meet your needs, whether you want help to decide on the best place for you to study French in France, more information about your French level, or the most useful French examination for you.
---