French in Normandy is proud to be a leader in preparing students for the DELF and DALF French exams.
---
What exactly are the DELF and DALF exams, you ask? DELF and DALF are diplomas awarded by the French Ministry of Education to certify the level of French-language skills of non-French speakers. These diplomas are valid for life and recognised all around the world. To obtain them, you must take the DELF and DALF examinations, which assess your communication skills in real situations using authentic documents.
Students from around the world trust French in Normandy to help them achieve their French language learning goals. French in Normandy is accredited by several top international organizations including the International Association of Language Centres, International House and Qualité FLE ensuring the highest quality courses, teachers and services.
Your success is our success and we are pleased to share with you our 2019 pass rates for the DELF and DALF exams. These numbers are a reflection of the hard work of both our students and teachers as well as the quality of education that French in Normandy provides.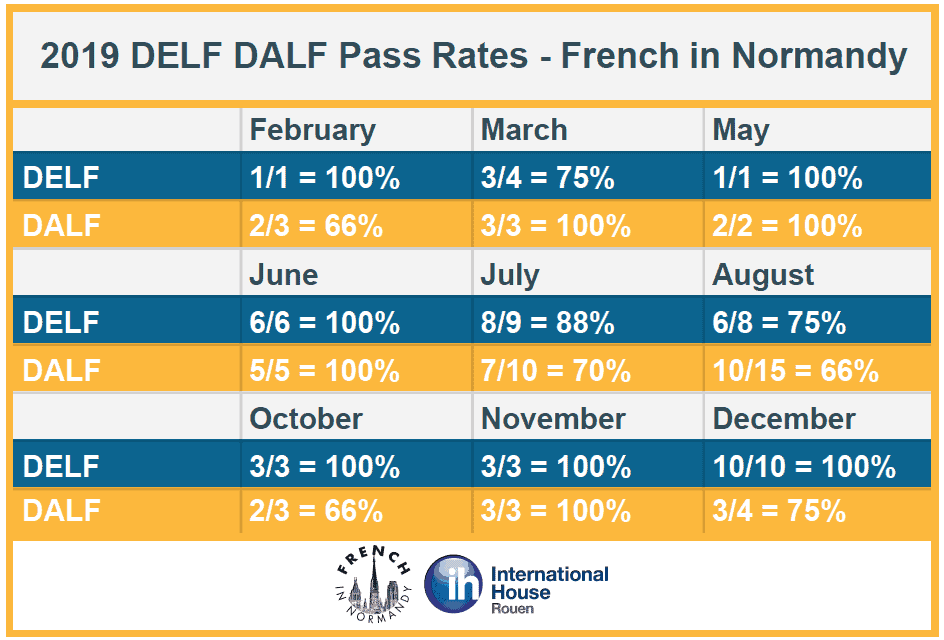 ---
Do you have questions about the DELF and DALF exam preparation programs at French in Normandy? Feel free to contact us or read more about DELF and DALF exam preparation on our website.
What is the difference between DELF and DALF?
DELF Certificate: 8 Effective Preparation Techniques
Top Tips To Prepare For Your French DELF A1 Exam
All about DELF Exam Preparation
All about DALF Exam Preparation