Getting a DELF French diploma can open the door to your ambitions. Many students need the DELF or DALF French diploma to get into university, perhaps in France or Switzerland, or to begin a career in the civil service. 
People who want to become professional bakers have found the DALF and DELF preparation course are very useful for taking the entrance exam to get a place at the INBP – the National Institute of Bakery and Pastry. 
And many students just want the qualification to show the level of French they've worked hard to achieve.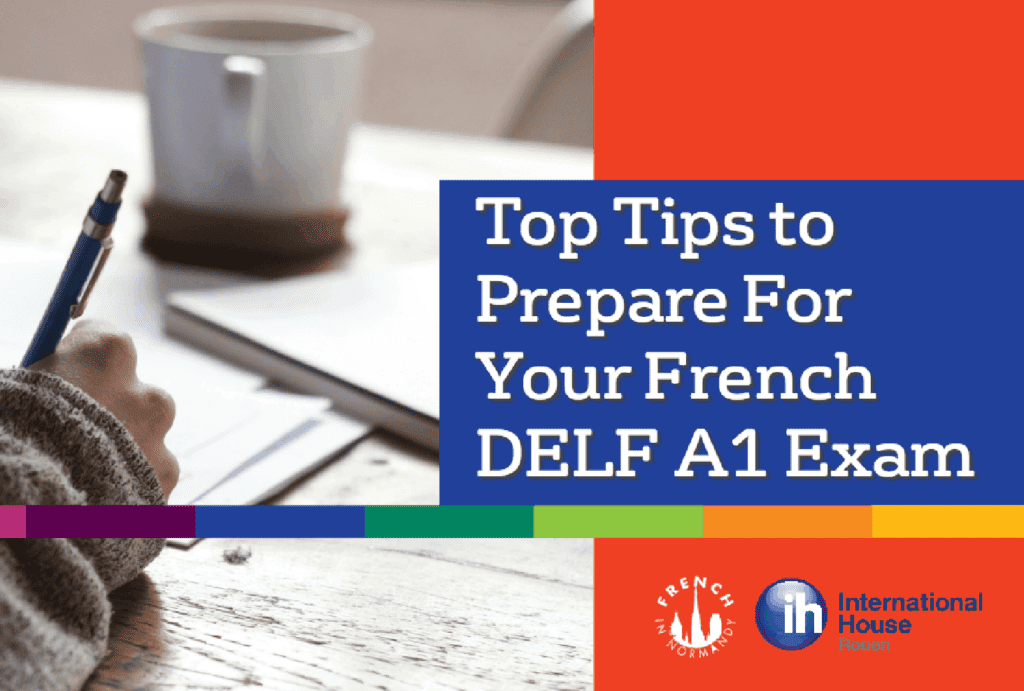 Students of all nationalities want to take DALF preparation in France: at French in Normandy, we've taught people from many countries including Switzerland, Korea, and Latin America. 
If you want to pass French DELF A1, preparation is vital. As a beginners' level qualification, A1 could be many students' first experience of a DELF or DALF test. 
At French in Normandy, our language school in Rouen, we have lots of experience in supporting students in French DELF A1 preparation as well as other levels in the DELF and DALF tests. Not only can you learn with us at our school, but we can support you in the DELF or DALF online. 
What is the DELF French Diploma? And what are DALF French levels?
The DELF and DALF Diplomas match the six levels of the Council of Europe' s Common European Framework of Reference for Languages (CEFRL) from A1-C2. They are organised by the French Ministry of Education to certify the level of French-language skills of non-French speakers.
The DELF French Diploma

(Diplôme d'études en langue française) is at levels A1-B2 of the Common European Framework, with an exam for each level. A1 and A2 are examined on Wednesdays and B1 and B2 on Thursdays. 

The DALF French Diploma

  (Diplôme approfondi en langue française) is at C1and C2 levels of the Common European Framework, and is examined on Fridays.
French DELF A1 preparation: What to expect?
Like most language exams, DALF and DELF French diplomas will test you on the four skills: reading, writing, listening and speaking. 
READING:
What's in the French DELF A1 reading test?

You'll get four or five short texts about everyday situations and you'll be asked to answer questions to check how well you've understood what you've read. It's a good idea to read the texts once before looking at the questions.  Make sure you understand exactly what the questions are asking before reading the texts again.

How to prepare for the DELF A1 reading test

The most useful thing you can do is read often. If you can find texts in French which are also translated into your own language, read the French and then check for meaning. Children's books can be good, and so can websites. Try to be familiar with as many words as possible (and if you don't understand any in the exam, try to work out what they mean from the rest of the text).
WRITING:
What's in the French DELF A1 writing test?

You'll be asked to complete a form and write something short – like a postcard or email – about something people do in daily life. Be careful: make sure you write what you've been asked to write, and read it through carefully when you've done.

How to prepare for the DELF A1 writing test?

Practise writing about things you do every day. Also the more you write out the same phrases again and again, the more you start to commit this to memory. Not only will you write more quickly, but you'll also add it to the list of things you can say fluently without thinking about it.
LISTENING:
What's in the French DELF A1 listening test? You will hear three or four short recordings about everyday situations twice, then answer questions on what you've heard. Remember, you hear each recording twice. The first time, try to get the general idea of what you are hearing and on the second listening, be more aware of the details. This part of the test is checking for how well you've understood what you've heard and you don't have to write in perfect French.
How can I prepare for the DELF A1 listening test?

By listening to things! The radio is good, as is the TV, films and talking to people. The more you listen, the more you'll hear the words and improve your understanding. Tell yourself that you won't understand everything, and learn to relax about this. However by picking out just a few words from the TV, you're tuning your brain in to the French language. Practice tests will also help you become more familiar with language at the DELF A1 level of French.
SPEAKING:
What's in the French DELF A1 speaking test?

There are three parts of this test:  guided conversation, exchanging information and role-play. In the first two parts be very careful to listen to what the examiner asks and make sure that's what you answer. Remember you get ten minutes to prepare for the role play with the images you've been given so spend that time thinking about what you can say. 

How can I prepare for the DELF A1 speaking test?

Speaking is vital: our school will help you. Our online course will check and correct your speaking exercises, and students in school will get plenty of practice talking inside and outside of class. When you're revising vocabulary and phrases, remember to speak them out loud and not just in your head, so you give your mouth a chance to work on pronunciation too!
How can French in Normandy help you with French DELF A1 preparation?
We are very proud of our exam success rates: in 2017, 97 per cent of our students passed their exams. We can offer both DELF and DALF preparation courses at our school in beautiful Rouen, just an hour outside Paris, or online (although you will have to take the exam in France, and this option is only available for students at B2 and above).
Students on our DELF DALF preparation courses in France take General French in the morning as well as exam-specific sessions. Morning classes focus on the four skills, with exam tutorials in the afternoons. You'll also get practice sessions with personalised correction and feedback. 
Some of our teachers are qualified, experienced DELF DALF examiners which help students to be confident and well prepared for their exam. Students can also attend free daily workshops after afternoon classes. 
Book your French DELF A1 preparation, or your DALF preparation course
We're looking forward to meeting you at French in Normandy and helping you to get the qualifications you need with our DELF and DALF preparation in France. Find out more about our courses and book here.