5 Groupement fle schools supported a competition organised by the French linguistic attaché in Spain, Manuela Ferrero Pinto. The French Ambassador, M Yves Saint-Geours in Spain was the guest of honour at the Institut Français de Madrid at the ceremony to give out the prizes to enthusiastic young learners of French.
The national competition, to celebrate the anniversary of French author Albert Camus' Nobel Prize award, was organised by the Institut Français in Spain. Existential author Camus was 44 when he received the award and had been a first class footballer until tuberculosis cut short his sporting career.
Groupement fle schools Accent Français , CMAF, Cap d'ail, French in Normandy, Institut de Touraine and LSF all supported the initiative giving a week of French lessons to winning teams of 6 from various schools throughout Spain.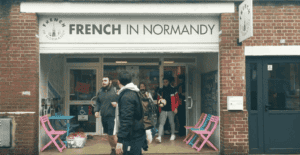 Said Groupement fle spokesperson Eleri Maitland, who was present at the ceremony on behalf of GFLE, "Groupement fle is proud to partner the Institut Français in Spain. Our job is to encourage and support initiatives that put the French language centre stage. Naturally, as the number one network of French language schools in France, it is our role to work closely with French government institutions to encourage and promote the French language. We are delighted to have been instrumental in this fantastic and very successful project and we look forward to welcoming the winners to France this year".
---