With the arrival of online language apps and platforms like Duolingo or Babbel, learning French (and other languages) slowly migrated from offline and in the classroom to online. And now you can find dozens of ways to learn French online, although some are better than others.
Due to the Covid-19 pandemic, which has changed our day-to-day lives, studying French in the traditional sense, in the classroom, has become somewhat difficult and for some people, impractical.
…so what's the most effective way to learn French online?
As some students cannot travel easily because of travel restrictions many language schools, including French in Normandy made their programs accessible so you could learn French online from the comfort of your home.
French in Normandy has various online French courses available to you. Whether you want to study General French online for adults, take a Teacher Preparation Program, have a DELF exam that you need to prepare for online or you simply want to improve your Business French for better career prospects, French in Normandy has your needs covered. Our online courses are specially designed for the online environment so that you can learn efficiently and enjoyably. We have a whole school behind the scenes to support your learning.
How to choose the right type of online French course?
…+ 4 things to look for when choosing an online programme
Generally with French online learning, you can choose between a couple of main learning methods. The first one is self-taught using books, apps, videos or other resources and the second is teacher-taught, a structured program where your learning is guided by a professional teacher.
Below we will delve into the pros and cons of these options and give you 4 important things to consider so you can easily decide which way is the best way for you to learn French online.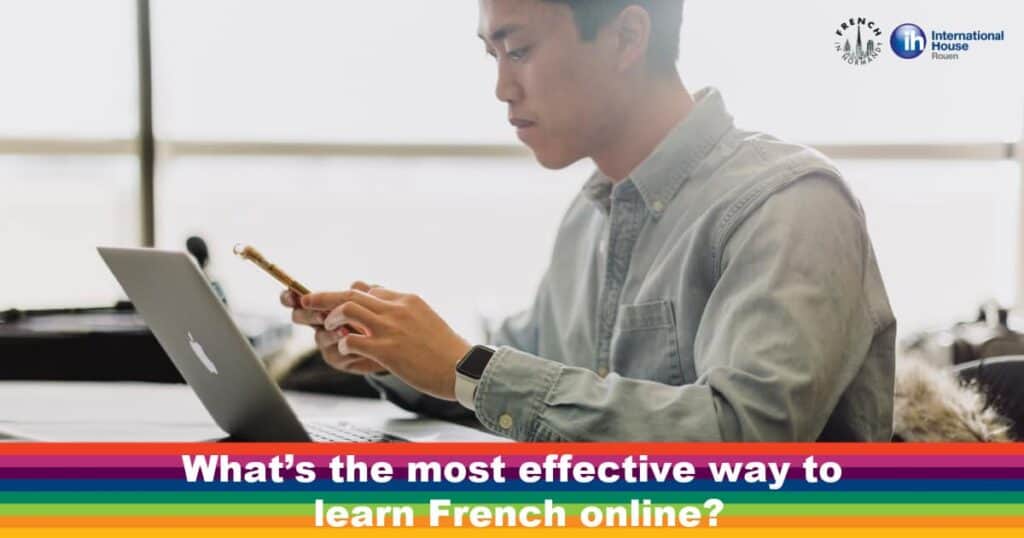 Self-study system (books, apps and websites) 
The self-study online French courses are a good option for those that don't want to have a predefined study schedule and where you can pick when you want to study, be that in the middle of the night. The self-study French online courses are ideal of highly independent students that like a good challenge and would prefer to master French on their own. These courses include Duolingo or Babbel (and many more) where aside from the main site, you can also study using their smartphone application while you're "on the go". Self-study only French courses have certain benefits:
You can choose your level and take an assessment test to determine your level of French

You can keep track of your progress through your profile

Flexible weekly goals where you can study from 5 to 20 minutes per day

Various checkpoint to keep track of the progress you made and modules you mastered

The courses are visually heavy, meaning they work with a lot of images and visual content
Of course just like with everything else, it's not all perfect. Self-study systems also have a few drawbacks:
Clarity – It's not always straightforward how the courses work

Obstacles – If you want to study about a specific topic, some platforms won't allow it until you complete the previous coursework

Context – Not all examples are appropriate, clear and common in real-life situations


Teacher-led online French courses 
On the other hand, precisely structured online French courses and programmes offer a schedule and study plan, follow up and correction by a real life teacher. The entire learning experience is different because you have a specific set of French lessons online that you will cover alongside a qualified French language teacher.
When you learn French online, for example through our General French Online Course you will not only cover the speaking portion of the French language, but also the other aspects i.e. writing, pronunciation and reading. This way, you will also learn French and learn about certain grammar rules that apply in every situation. It's a well-rounded learning experience. Furthermore, your teachers are native French speakers and you get a chance to ask questions and have conversation in real time. Since our programmes offer guided learning, online French courses are mostly suited for those that want to progress in a quick and structured way using real life interactions in French with a native speaker.
So to summarize the benefits of taking a teacher-led online French course:
Best suited for beginners that have no previous knowledge

Ideal for students that need guidance and detailed instructions

Covers all aspects of the French language

Working at your own pace and repeat the study material

Online French courses led by native French speakers

Ability to ask questions and get your questions answered on the spot
Of course, French language lessons online aren't perfect either:
During group sessions the background noise of some students can be distracting

Groups French lessons online tend to be adjusted to fit the schedules of the majority

Large groups can actually hinder your chances to perfect your language skills

After a certain level, you don't notice fast progress as before

4 things to look for in an online French course
Ever since travel options have been reduced and your plan to travel somewhere French-speaking in order to learn the language have failed, people around the world have turned to online learning in order to broaden their horizons and learn new skills.
With this drastic shift to online French learning, everyone with a solid foundation of French thinks that they are qualified to teach others, but unfortunately that's not the case. So in order to make sure that you're getting the best for your budget, you need to have some criteria when you want to learn French online. Here are 4 things to look for when choosing an online French course.
1. Qualified teachers for French lessons online
Good results from students isn't the only thing that makes a French language school successful, far from it. The teacher's commitment to teaching and high quality education makes the difference.
Well-founded and organized online French courses and experienced teachers are important, because it's not enough to know how to use Zoom or Skype in order to teach French online.
In order for someone to be good at teaching French (or any other subject really) their interpretation of the subject and lessons should be warm and personal, to look and feel like in-class teaching as much as possible, there are many important characteristics of a good language teacher that you should look out for when choosing an online French learning programme.
Furthermore, the teacher not only has to be skilled on how to teach French online, but they also need to be really, really good at French. This is because aside from the theory and rules of French that they must pass on to the students, they should also teach them how to use French in real-life situation that also can include some colloquial language, understanding what certain phrases or proverbs mean. Not something that you will find in every textbook.
2. Personal Attention
You should look for courses that offer personalized instruction and language lessons that will target your specific goals. After all, not every student wants to achieve the same thing, some students will want to learn the basics for personal interest and others will have professional or academic reasons for learning French. French in Normandy teachers will work to understand your goals and help you achieve them at a pace that is suitable to your timeline.  At French in Normandy, your success is our success.
3. Technology & Security
Schools should be a safe place and should provide cutting edge teaching methods and technology. And even though you're not technically attending French lessons in Normandy, that doesn't mean that the tools and software that you're using during your online French course, shouldn't be modern, safe and secure.
Once the Covid-19 pandemic started to surge many schools and businesses switched to video conferencing like Zoom. This later on, created some problems regarding security but it was resolved quickly thereafter.
When you're looking for a school with whom you want to learn French online, make sure that they use up-to-date and secure software that is easy to use, accessible and will help and not hinder your learning experience.
4. Word of mouth
Just like when you're picking the accommodation for your next vacation or when you're choosing your next smartphone, reviews are a priceless source of information. The same goes for online French courses. People who had great experiences are likely to share their happiness online as a form of gratitude but also to persuade others to make the same choice they have. The same goes if they had a bad experience, when they want to prevent other people from making the same mistake they did.
You can learn a lot from reviews like how efficient and engaging the lessons are, how pleasant and helpful are the teachers and how much will you have to spend for the course.

So even though the current health crisis might look unprecedented and unpredictable, that should not discourage you from working on yourself and broadening your horizons. Learning new skills is a great way to keep your mind sharp and to catch a breath from the not-so-pleasant news you hear every now and then.
If you're thinking about improving your French language skills, then French in Normandy is definitely the right place to start. All our in-person French language courses are also available online, so you can choose between General French online, DELF online exam preparation and even Teacher Training online.
For more details, make sure to contact us and let us know your questions.