We're back with Alan, from Stratford upon Avon, Home of William Shakespeare. Alan is a young 57 year old student who has come to Rouen to learn French before a) embarking on a 1000 mile horse trek on the Route D'Artagnan through France and into Italy and b) with a view to living in France permanently. Read on to learn more about his first week as a student at FIN…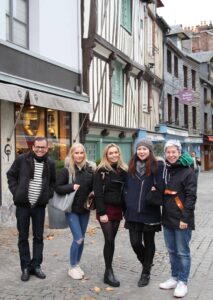 Salut, everyone! It's now one week since I started at French in Normandy. I confess to being really tired at the end of each days lessons which seem to fly by. For the first time ever I have been able to understand NUMBERS in French! I always used to know how to count to about fifty, after that I could never work it out but I now know, understand and can calculate the numbers. That said, when you finally manage to understand how they build the numbers up in the language it seems very bizarre as an Englishman. Basically, they say for example; for seventy-seven – sixty plus seventeen! Which is soixante-dix-sept. Eighty is four times twenty – Quatre-vingt and ninety is four time twenty plus ten, in otherwords Quatre-vingt dix! I'll let you work out what sixty nine is! Now I bet that has confused you all but our excellent Professeur, the slightly mad Viktor, makes it seem so normal and easy. Literally within one lesson I could understand and work out the numbers and even understand them when they were being said to me. Brilliant.
This week has also explained simple stuff like asking for someone's email address and business card. Where they live? What they do for a living? Do they have a mobile number? Basically all the things you need when you want to start to exist and talk to someone in France.
What I think is very cool about the way we are taught is that it all comes mixed up within building the conversation. You learn to listen, to pronounce; then get to read it and then write it. By the time you have done that the phrases and words you have learned stay stuck in your brain without you realising it.
The best bit is that although Viktor has a structure to the lesson, if the students (étudiant(e)s en français) start to converse in French on a different subject he lets the subject run, interjecting and adding to our knowledge, using the internet in conjunction; to help us grow our vocabulaire and our comprehension. Just so unlike the school lessons I used to have!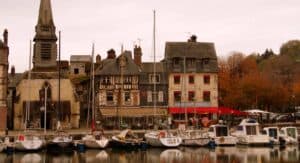 I also went on a trip this week, with some of the students and a teacher, the lovely Christine, to Honfleur. It's a beautiful port just thirty five minutes drive from Rouen. I had been there before years ago but going with fellow students and a French Professeur made it all seem slightly less like a tourist town. I'm sure I spotted some fellow Brits so I ducked my head and avoided eye contact and spoke French loudly so they didn't recognise me as a brit as well. Nothing could be worse!
The weekend for me has been spent exploring a few French villages and enjoying very tasty French food and 'les vins' – in the words of the advertisement – "le pain, du vins et le Boursin" except it was infinitely better local "fromages des pays". All in all a very happy and satisfactory first week 'en france'. I'll keep you posted next week.
Alan