The cuisine in Normandy ranges between coastal to country. Here are our top 6 must-try Norman specialties.
Learning a new language isn't just about learning the technical stuff like grammar, pronunciation etc. The technical stuff is something you can learn in any classroom or at home, but in order to fully understand and "feel" a foreign language, you need to immerse yourself in the culture. And what better way to experience the French culture than to try some of the amazing foods here in Normandy.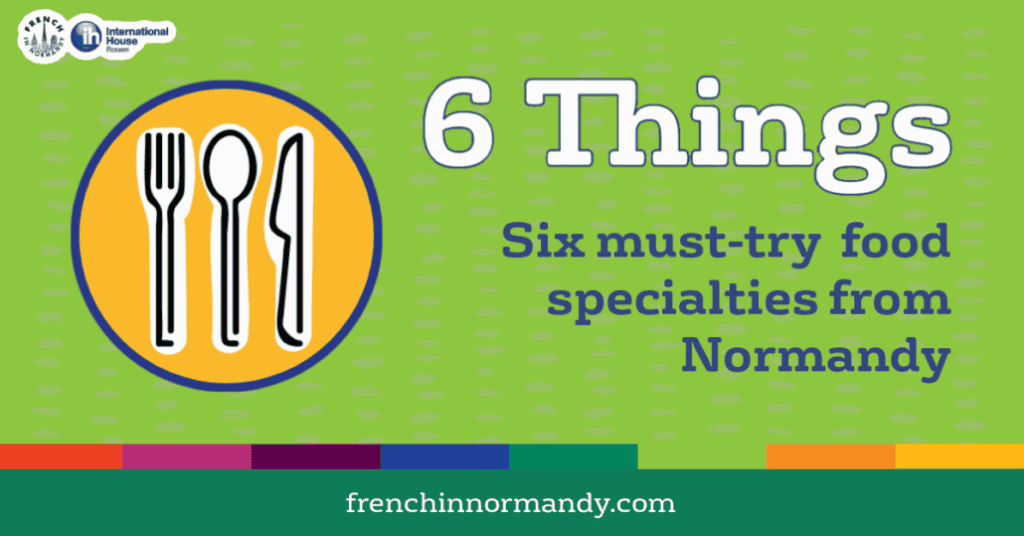 Marmite Dieppoise
Marmite Dieppoise is one of the first dishes we would recommend you to try; it combines fresh seafood, butter, cider and crème fraîche, mollusks, crustaceans and fish. A delicious salty, creamy fish stew! You can find it not just in the town of Dieppe but also in villages and restaurants across Normandy.
Meadow-salted lamb
If you're not a big fan of seafood not to worry. Normandy has something for everyone's taste. The Meadow-salted lamb or as French call it "agneaux de pré salé". The fields the lambs graze are permeated with salted ocean water. This gives the meat a naturally very salty taste.
Trou Normand
It's a traditional custom in Normandy to offer Trou Normand to guests between means or as a dessert. Calvados, which is a well-known liqueur in Normandy, is poured over apple sorbet. The liqueur awakes your appetite and the apple sorbet smoothens the taste.
Omelette à la Mère Poulard
If you like omelette, then you should definitely try this one. But, be warned this is not an average omelette. The recipe dates back to the 19th century, it's still a secret and some gourmands still speculate how they prepare it
Teurgoule
A sweet dish that ended up on our shortlist! Teurgoule is a type of pudding where rice is cooked in milk and sugar and topped with a combination of spices like nutmeg and cinnamon. Then it's baked in earthenware for a few hours and you get a thick, caramelized crust on top. It's sweet, hot and spicy! They say that the word teurgoule is a variation of se tordre la goule meaning "twisting the mouth". Seems fitting, doesn't it?
Cheese !
As you may know, Normandy has an abundance of farmlands and the local dairy cows give some of the best cheeses in all of France. Whichever cheese you pick to go for, you won't be wrong. But we definitely recommend the ones that originate from Pont-l'Évêque, Livarot, Neufchâtel and Camembert communes. They pair well with apple-based beverages, for what Normandy is also well-known for.
We hope that these traditional Normandy dishes have awakened your taste buds! Additional tips on the French cuisine can be learned from our French Cooking Course where you not only learn French but also enhance your cooking skills so you can impress all your friends with traditional French foods.