My name is Sonya, I am 25 years old and I am from Russia. At the moment, I am doing an internship in France at «French in Normandy» as Marketing Assistant. Today I will tell you about my impressions of life in Rouen and of my work experience at the school. I really hope it will be useful for those of you who are planning a trip to France to learn the French language (to travel / to get a higher education / to work / just on holiday – underline as appropriate), but haven't chosen the destination yet.
So, why choose Rouen? And why «French in Normandy»?
First things first…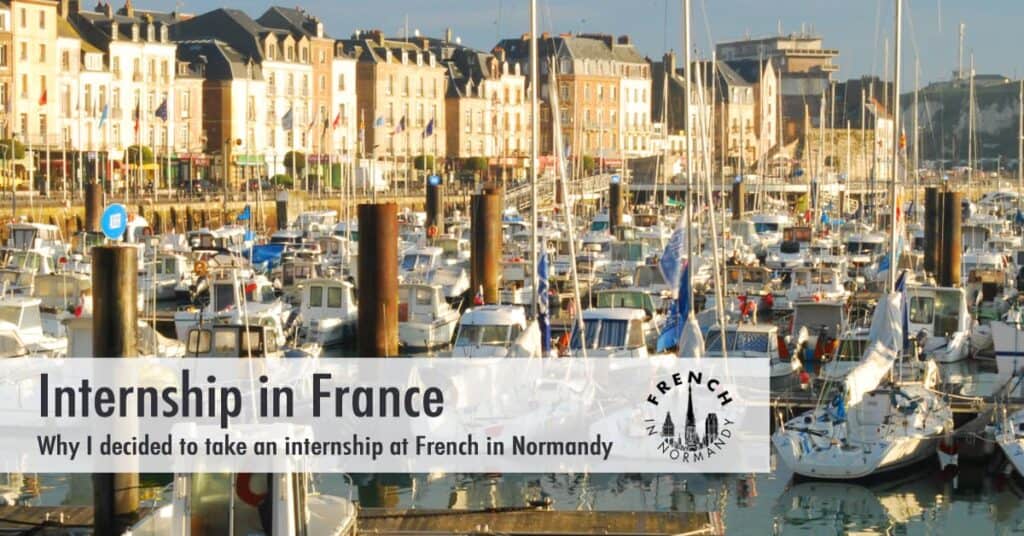 How did I come to do my internship here?
The internship is the final stage of my studies for a Master's degree in France (I am studying foreign languages applied to international project management at the University of Western Brittany in Brest). The sphere of international education has always attracted me because it combines several activity areas really that really interest me – tourism, education and working with foreign languages. That is why I decided that an internship at a language school would be perfect for me.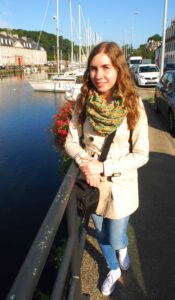 I learnt about «French in Normandy» from the language centres catalogue of Campus France. I sent my CV to several language schools, and it was «French in Normandy» that I got the first reply from within a very short time (which was a pleasant surprise as it is not very typical of France). Besides, there were some other important "pros": only positive students' opinions on the Internet (I didn't find a single negative or even neutral reference!), an elegant and informative multilingual website, and pages on several popular social networking services. I believe that all these show that the school really cares both about its reputation, its potential clients and employees and keeps up with the times. And it is actually due to the combination of all these factors and challenging and exciting work that I was really happy to receive an internship offer from «French in Normandy».
And yes… There was one more argument for – Rouen and Normandy.
Why Rouen?
For the first time, I visited Normandy and Rouen in the autumn of last year having no idea that very soon I would come back for 4.5 months. My first impression of the city was that of the gothic cathedral Notre-Dame de Rouen which is absolutely amazing. And it is no wonder: the cathedral is so high that its spires are almost lost in the clouds, and if you come closer, its lacy architecture with numerous details simply takes your breath away (later I learnt that this style is called "Flamboyant"). I pass by the cathedral at least once a week and every time I can't help but admire its magnificence (no matter how pompous it sounds).
The historical centre of the city strikes by the combination of splendid gothic and fairytale medieval
architecture with its wooden-frame houses and stone-block pavements. I think it's no use listing all the sights of Rouen – you can find their description in many travel guides and on many websites. I will only say that it is a city filled with history – the city of Joan of Arc, Gustave Flaubert, Pierre Corneille and Claude Monet (by the way, the Museum of Fine Arts of Rouen possesses the second largest collection of impressionists after that of the famous Musée d'Orsay in Paris).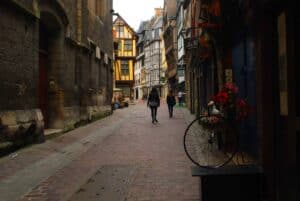 In general, the cultural life of Rouen is very dynamic – there are always some events going on: various festivals, exhibitions, concerts… I think that the city can be interesting for people of different ages. On the one hand, it is quite safe and calm, on the other – Rouen is the city of students as it hosts several educational institutions: the University of Rouen, a business school, an engineering school, and some others. A lot of foreign students come within Erasmus and other exchange programmes, or just to learn French. I think that the variety of discos and bars will also appeal to young people. By the way, at one of the bars, «La Taverne de Thor», there are weekly "language exchange meetings" that are a wonderful way to meet new people and to practice French, English or other foreign languages.
And of course, a question of great concern (especially for girls): what about shopping? Don't worry – the shopping in Rouen suits every taste and budget: there is everything from luxury brands to flea markets, and from antique shops to well-known mass market stores. As for me, I really appreciate the abundance of local designers' small shops in the city centre – the prices are not that low, of course, but not sky-high either, and in addition you can find some really lovely and unusual stuff.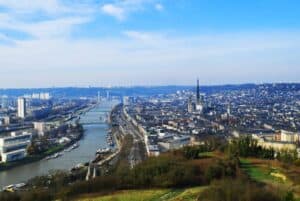 In Rouen you will find a great variety of cafés and restaurants that will meet your every need, since Normandy is justly famous for its cuisine and the high quality of food products. The most famous Norman specialities are, of course, various cheeses: Camambert, Neuchatel, Pont-l'Évêque… – and also delicious dairy products (cream, butter), appetizing apple pies, the freshest seafood, and local spirits – cider and Calvados. By the way, if you want to feel like a real Frenchman, buy products not in supermarkets, but in small private shops ("boulangerie", "épicerie", "boucherie", etc., at least bread – in a boulangerie for sure!) or at the Sunday markets in the city centre where the seller and the producer are usually one and the same person. As for national cuisines, the choice is also huge – I am almost sure that you will find a café or a restaurant specializing in the cuisine of your country (I found a Russian restaurant with real Russian food!).
As you can see, Rouen has all the advantages of a big city. But at the same time, everything is very close: all the major sights and entertainments are either within walking distance or several minutes' trip by bus or by underground. Besides, the prices are much lower than in the capital. I think that the latter is especially important for students planning to stay in France for quite a long time.
It is no secret, however, that most people associate France first of all with Paris. An important advantage of Rouen is that you can easily get to the capital in 1-1.5 hours – there are direct high-speed trains and buses to Paris. Moreover, it is convenient to travel from Rouen to other countries: it is situated almost at the same distance from Brussels and London, and there is a great number of low-cost airlines flying from the airport of Beauvais which is half-way between Rouen and Paris.
Finally, Rouen is a perfect departure point for journeys all over Normandy – one of the most beautiful and picturesque regions of France. I won't mention all the places worth visiting – they are really too many. Here are just some of them that, in my opinion, deserve special attention:
Le Mont-Saint-Michel – a real architectural and natural miracle;
Honfleur – one of the most beautiful little towns in Normandy;
Caen – the city of William the Conqueror with a wonderful castle;
Etretat – a small town famous for its beautiful "postcard" views of sea cliffs that Claude Monet embodied on his paintings;
Giverny – the memorial house of Claude Monet and picturesque gardens.
I think that if you are going to France to study French and you are facing a difficult task of finding the right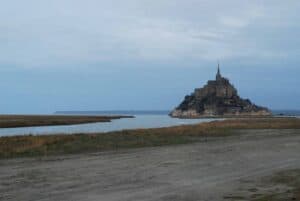 language school, Rouen and Normandy will be an important argument for choosing "French in Normandy". However, it is obvious that for those whose first priority is studies just a wonderful geographical location is not enough – some other reasons are necessary. So…
Internship in France: Why «French in Normandy»?
You can find a lot of information about the school's numerous advantages on its website and in its brochures. That is why I will probably say nothing new here. But today, having spent 4 months at school as an intern, seeing its everyday life "from the inside", talking to my colleagues, I can say with confidence that "French in Normandy" – is first of all a really excellent quality of teaching the French language and a highly professional and enthusiastic teachers' team.
The school uses an innovative communicative teaching approach aimed at inciting students to use the language primarily for oral communication – to speak, to speak and to speak again… Numerous after-class activities and clubs that are free for students (cinema club, theatre club, reading club, etc.), as well as the accommodation in a French family recommended by the school, are also intended to reach this objective. At "French in Normandy", French is used as the language of day-to-day communication with the students of all levels (only as an exception, the school's employees can sometimes switch to English or some other language to explain some important administrative issues).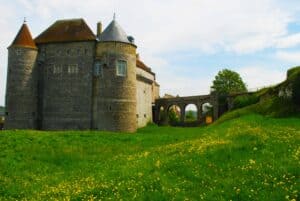 The high quality of teaching the French language at school is confirmed by the fact that "French in Normandy" is accredited by the French government (which also facilitates the process of getting the French visa for those students who need it). Moreover, the school is the winner of numerous prizes in its sector. For 5 years on end, "French in Normandy" was acclaimed Best French Language School by "Study Travel Magazine" (the only periodical making and publishing the ratings of language schools), and several times – by the website Education Stars.com (the equivalent of Tripadvisor in the sphere of educational tourism) – according to students' opinions.
I can also say that the warm family atmosphere and individual approach to every student are not just words from advertising booklets. All these are to a great extent made possible thanks to a small group size (not more than 10 students per group) and also to the fact that all the school's teachers and employees have good knowledge of the basics of psychology and do their best to make the students feel comfortable both at school and outside – as it is obvious that without cheerful mind and positive thinking good communication, and therefore progress in language learning, is impossible.
In my opinion, the most important advantages of the school are the following:
The duration of each lesson is 60 minutes (not 45 like a lot of schools offer);
Classes start every Monday for all the levels and all the types of programmes;
The school offers preparation courses for internationally recognized DELF/DALF exams;
«French in Normandy» offers a wide range of accommodation options, including home stay, student residence, hotels, youth hostel, etc.;
The school organizes an orientation tour of Rouen for all new students on the first day of their classes;
«French in Normandy» is open all the year round except for the 2 weeks of Christmas holidays, and lessons are never lost on public holidays – they are made up during the remaining days of the same week;
You can benefit from the airport transfer service offered by the school;
Reading and watching movies in French can help you to make a rapid progress in the study of the language. The school disposes of a small, but really nice library with books, magazines and DVDs.
What can I say in conclusion? I suppose only one thing.
Welcome to Rouen!
And welcome to «French in Normandy»!